How to Use White Label Web Design to Grow Your Digital Agency
Is your digital agency spending countless hours—and dollars—struggling to get white label web design support? Maybe you're hiring and firing designers that can't deliver, or your team is just overwhelmed trying to wear ten different sombreros at once.
Whatever the challenges, know that you can use white label web design to grow your agency—and it's easier and more affordable than you might think.
What is White Label Web Design?
The short answer is that white label web design means you get a ready-to-go solution for web design that's done for you.
With white label web design, you use someone else's tried-and-true methods to grow your digital agency and deliver excellent websites to your customers. With white label web design, you don't have to:
Waste time recruiting (or managing) a new team.
Invest in establishing an infrastructure to support your team.
Spend valuable time creating and testing various solutions.
Try to become an expert in areas that are tough to master.
Sacrifice quality or customer service by trying to do it all.
Leave customer service up to people who are inexperienced or have other responsibilities.
Navigate WordPress, WooCommerce, Shopify, Instapage, and hundreds of other platforms.
Learn complicated jargon or go back to school for another degree.
Hide under your desk when clients aren't happy with their project results.
But enough about the drawbacks of going it alone. What do you get with white label web design?
A team of experts who know their stuff.
On-call support and training to help your agency reach its goals.
Help with landing pages and sales funnels and all the other digital marketing stuff.
Real people to bounce ideas off of and collaborate with.
Of course, growing with a white label design team means choosing the right agency. We're understandably biased, but there are best practices you should follow, no matter who you decide to hire.
Best Practices for Maximizing the Benefits of White Label Web Design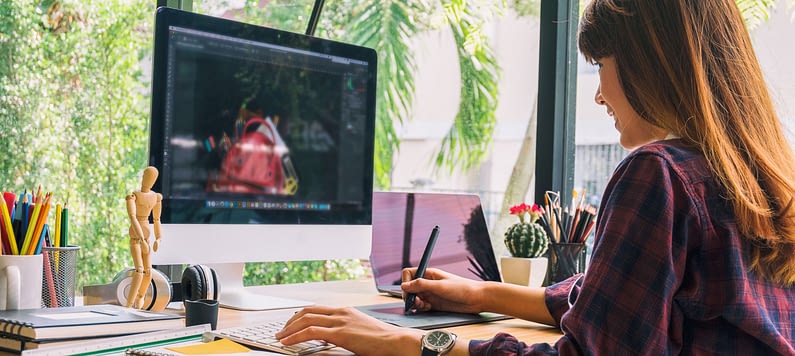 Choosing a white label web design team can feel daunting. It may also be tempting to go with the cheapest solution. But you know what they say about getting what you pay for. The saying is especially true when it comes to people who are going to be interacting with your existing team and your customers.
Stick with these criteria when choosing a company or team to work with—and you'll be off to a great start.
1. Make sure they fit your budget and include revisions.
While you don't want to cheap out when choosing a partner for web design, having a set budget is essential. Know how much you're willing to pay—and don't let anyone nickel and dime you.
Also, make sure revisions are part of the package deal. There's no use in paying an hourly rate for changes when you can contract with a company that handles revisions with no extra billing required.
2. Make sure they speak English.
It's true that you can hire a range of digital experts from all over the world. Location independence is a perk for plenty of professionals. But that doesn't mean your customers should struggle to communicate through language barriers. You shouldn't have to either, for that matter.
So while your team might be bilingual, they should be fluent in English. After all, the nuances of language can mean huge misunderstandings with non-fluent English speakers. Diversity is great—but struggling to understand one another won't bode well for your digital agency's growth.
3. Have them work your time zone.
Since plenty of teams spread out across the globe, timing is key. Getting a team that works in your time zone can be a significant plus when it comes to getting revisions done, communicating promptly, and servicing customers.
Not every team sticks to an 8 am to 5 pm timeframe, but you should choose one that does. The standard workday offers more opportunities to connect and ensure that projects exceed expectations. No more 10 pm conference calls or 3 am emergency emails—everything should happen during daylight hours.
4. Have daily real-time communication.
Another reason time zone-based collaboration is crucial is because it avoids delays in communication. Ideally, you'll talk to your team in real-time at least once a day. With multiple projects in progress, you'll need to check-in, get updates, make decisions, and offer your perspective.
It's a common myth that outsourcing aspects of your digital agency's operation mean less control over the processes and products. You can—and should—be involved as much as you want to be—and that means frequent emails and conference calls with your team.
5. Make sure they know about digital marketing.
Web design isn't as simple as choosing complementary color palettes and appealing fonts. A combination of elements affects the way consumers see your client's brand and how they respond to it. Namely, digital marketing is a vital part of the equation—although it's not something every white label web design agency knows (or even cares) about.
The thing is, digital marketing encompasses a range of strategies and elements that help your clients reach their target audience. A team that understands digital marketing is invaluable because they care about more than just nailing your website layout.
Ready to Get Started with White Label Web Design?
We can't think of a reason not to go with white label web design as a growth solution for your digital agency. Forget about outsourcing valuable projects to one-off hires who aren't committed to helping your agency succeed.
Why would you take the more expensive and more challenging route of cobbling together freelancers or paying for full-time employees when you can partner with a team that checks all the boxes for a ton less cash?
Especially after you see the results of white label web design with an agency like DUDE, you'll never go back to your old ways. Both you and your clients will appreciate how easy and seamless every project becomes—and you'll like the dollar signs happy customers bring in.